If you are looking for a best band saw then you are at the right place now. Band saws are obviously quite expensive that's why you need to make sure that you are doing investment in the right product. Band saws have a significant role in the lives of several professionals such as handyman, craftsmen, woodworkers, etc… In a saturated market place where thousands of brands are available in a similar price tag, it's often hard to trust any manufacturer as they often cook up things according to their own perspective… In our buying guide, we have featured some of the best band saw reviews in 2020 that have positive feedback to avoid any inconvenience at your end.
List of our Best Band Saw picks:
PRODUCT
DETAILS

Makita XBP02Z Band Saw

Blade size: 44-7/8″
Cutting capacity: 4-3/4″
Cutting speed: 275-530 ft./min. 
Power Source: 18V Battery
Weight: 15 pounds
Rating:
Grizzly G0555LX BandSaw

Horsepower: 01
Blade length: 93 ½ inches
Blade speed: 1800 – 3100 FPM 
Table tilt (R/L): 45/10 degrees
Weight: 247 pounds  
Rating:
Rikon 10-305 Bandsaw

Blade Speed: 2780 FPM
Horsepower: ⅓ HP
Weight: 76 pounds
Blade length: 70 ⅓ inches            
Power Source: AC, 115V
Rating:
JET JWBS-14DXPRO Saw

Horsepower: 1 ¼ HP
Blade length: 105 inches
Blade speed: 1500/3000 FPM          
Table tilt (R/L): 45/10 degrees
Weight: 258 pounds
Rating:
WEN 3959 BandSaw

Horsepower: ⅓ HP
Blade length: 72 inches
Blade speed: 1520/2620
Table tilt (R/L): 45/0 degrees
Weight: 73 pounds               
Rating:
Top 10 Best Band Saw Reviews 2020:
1. JET JWBS-14DXPRO 14-inch Deluxe Bandsaw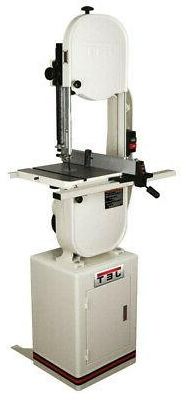 JET JWBS-14DXPRO 14-Inch Bandsaw is an outstanding choice that you can make as it comes with a unique design that easily allows users to cut pieces up to 12 inches in height without any hassle. As far as safety features of this JET JWBS-14DXPRO band saw are concerned, then it has a retractable blade guard adjusted up to 12 inches. You will also get a table along with this band saw of size 15″ by 15″ that will save a lot of your time by making your job much easier. You can also keep an eye on the blade to make sure that it's aligned correctly with the help of the easy-view blade tracking window.
It has a tough frame structure entirely made up of iron so that you can easily manage the most challenging cutting projects without any hesitation or fear. Another noteworthy highlight of the JET JWBS-14DXPRO band saw is its high-speed blades powered by a 1.25 horsepower TEFC motor along with a variable speed controller.

2. Rikon 10-305 Bandsaw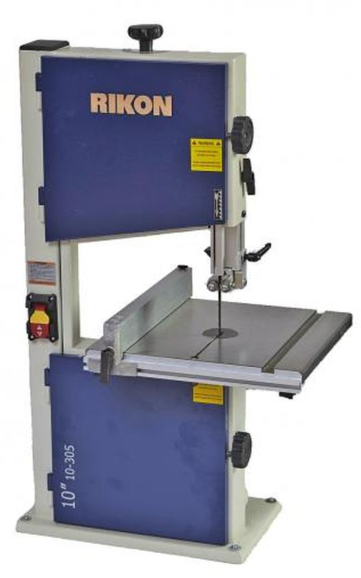 The Rikon 10-305 band saw can flawlessly perform a wide range of cutting and ripping related tasks in a matter of few minutes. It comes with an ergonomic design which is also quite lightweight allowing you to use this band saw for hours without having any stress or fatigue. The most noteworthy feature of this band saw is its comfort and performance that ensures excellent results. Rikon 10-305 has an adjustable cutting height of 10 inches along with a 3.4 Amp motor that will be sufficient enough to tackle challenging woodworking projects.
Vibrations have a key role in the performance of any band saw because when the vibrations will be minimum then the chances of interruptions will also decrease significantly that's why Rikon 10-305 is designed in such a way that it produces fewer vibrations. It also has plenty of amazing safety features such as safety paddle switch that will prevent accidental starts when it is not engaged in any work.

3. Grizzly G0555LX BandSaw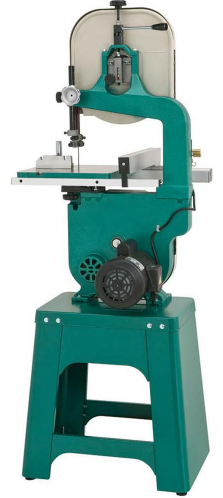 The Grizzly G0555LX Bandsaw is always on top of the priority list because of its rapidly increasing customer reviews which are on the positive side. It comes with a lot of outstanding features that are quite hard to expect especially in this price range. Computer balanced automatic cast iron wheels are used in this band saw that will save a lot of your valuable time and cost. The only thing that makes this model a bit different is its ideal weight of 247 pounds. It's a durable band saw that can easily take a lot of pressure without fear of damaging the equipment.
You may feel it a bit expensive but on the other side, it will flawlessly perform the toughest jobs in a professional workshop environment without any issues. However; if you are a hobbyist or you want to buy Grizzly G0555LX for occasional work then this might be too much costly. You can consider some other alternatives in our buying guide if you have concerns about its price tag. The only downside of this band saw is its weight that makes it less portable.

4. SKIL 3386-01 Benchtop Band Saw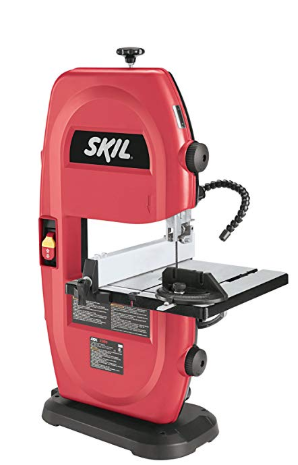 The SKIL 3386-01 Benchtop Bandsaw is an example of durability and advancement because it comes with several unique features that enable this band saw for professional and occasional use. You can perform the toughest cutting, cross-cutting and ripping related operations with full comfort and accuracy with this band saw. It is one of the latest models of SKIL which is a well-known brand for their trustworthy and cost-effective products. SKIL 3386-01 comes with a compact and lightweight design that makes it a portable band saw for both professional and personal use. The SKIL 3386-01 is powered by a 2.5 Amp motor that operates flawlessly at 120V for challenging cuts. There are plenty of other outstanding features as well that we cannot discuss in a single post making it a versatile band saw among all. It's made according to the industrial-grade constructing so that it can last for a huge period of time without having inconvenience.
There is an LED work light used in this band saw to keep your cuts straight along with a dust port. The size of its dust port is a noteworthy factor because dust port capacity is always a matter of concern for many of the professionals. Its 1-1/2 inch dust port will surely do wonders in clearing dust from your cutting piece, making your workshop clean and tidy.

5. WEN 3959 BandSaw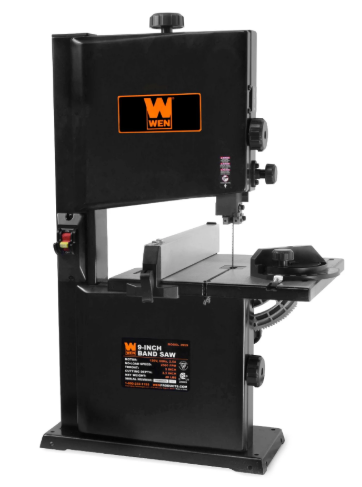 The WEN 3959 Bandsaw comes with a powerful 2.5 Amp motor that rotates the blade up to 2500 FPM making it one of the most powerful band saws in the market. It comes with an impressive lightweight and compact design that enables you to create most accurate cuts up to 3-1/2 inches deep and 9 inches wide without any difficulty. The package includes several outstanding additions such as a miter gauge, 2-1/2 inch dust port for a dust-free working environment, adjustable blade guards and a high-quality fence for straight cuts.
It can be flawlessly used on any flat or study surface without having any issues due to its compact form. If you want to use it for your personal house needs then it will be one of the smartest decisions of your lifetime, however; we will not recommend it for professional use due to some reasons such as frequent blade drifts and many other minor drawbacks that can disrupt your professional job.

6. Shop Fox W1706 Bandsaw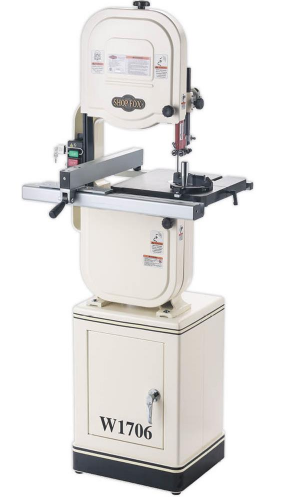 If you are struggling to find the best band saw without any price limitation then you should try Shop Fox W1706 Bandsaw. You will get tons of useful features in this single band saw as compared to other expensive machines in the market. In Shop Fox W1706 Bandsaw, you will get cast iron upper and lower wheels, high-quality aluminum fence and a quick-release blade tension for precise cuts. It's powered by a 1-horsepower motor that flawlessly operates at 1,725 RPM.
It's one of the best choices that you can ever make in your life especially when it comes to buying the right tools for the right job. The Shop Fox W1706 also features a deluxe miter gauge for perfect cross-cuts. It's a quite outstanding machine as far as durability is concerned as the frame; table and wheels of this band saw are made of pure durable cast iron making it perfect band saw for challenging cutting jobs.
If we talk a little bit about its drawbacks then honestly speaking there are currently no major drawbacks that we have heard about this band saw. However; there are some raising concerns about the guide bearings as they have a very short lifespan otherwise there you won't face any sort of issues hopefully.

7. Powermatic PWBS-14CS Woodworking Bandsaw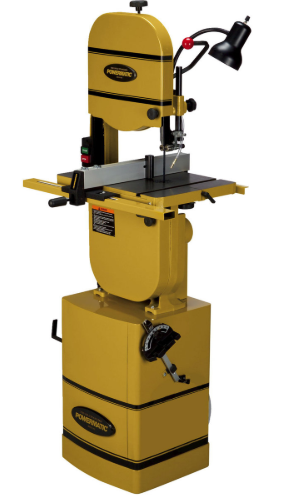 The Powermatic PWBS-14CS woodworking bandsaw comes with a large work table that makes it quite easy for anyone to work for hours on this band saw without getting tired. It features a quick-release lever to ensure ease of changing the blades. If you are a professional woodworker or even hobbyist then Powermatic PWBS-14CS is an outstanding machine for your needs. As far as the price of this band saw is focused, then it's one of the cheapest models that we have reviewed so far without compromising on power.
This band saw will handle all the tough cutting jobs easily because of its solid steel and cast iron construction. Adjustments are also quite easy with Powermatic PWBS-14CS due to its blade width markings. If you are a beginner in your profession then it's better to invest in low price products such as the PWBS-14CS band saw as it offers high-quality results just like any other expensive machine.

8. POWERTEC BS900 Band Saw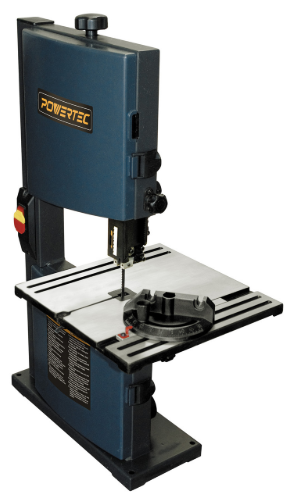 The Powertec BS900 Band Saw is the second addition in our best band saw buying guide 2020 from PowerTec. The previous model that we have reviewed has concerns regarding the weight; However, POWERTEC BS900 Benchtop band saw is an ideal lightweight band saw that offers convenient cutting operations. It comes with easy to adjust blades along with a patented window to enable the users to see where exactly the blade is cutting to avoid any errors in the design later on.
The adjustments are also quite easy with POWERTEC BS900, thanks to its quick-release blade action. It also comes with an aluminum cast table for more stability during work especially when there is a lot of noise and vibrations. If you are intended to use this band saw for your small workshop or DIY projects then you should consider it immediately without wasting any time in thinking.

9. Delta 28-400 Band Saw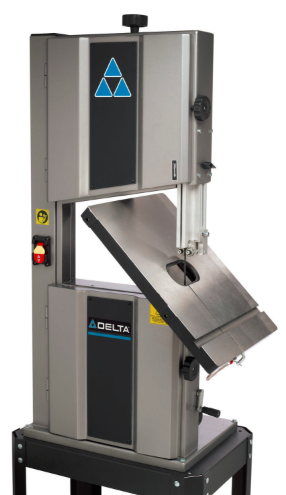 The Delta 28-400 Band Saw is a heavy-duty band saw made of steel that makes it a durable band saw in the market. It comes with an aluminum trunnion table support that makes it a long-lasting band saw despite tough jobs. In Delta 28-400, you will get two-speed pulleys with an easy tension system to reduce all the extra stress that can interrupt your work. Delta is a well-known brand in making quality woodworking machinery, having their band saw in your workshop will surely make a huge difference in the quality of your work.
It offers accurate cuttings along with a larger insert that provides easy of changing the lower guide settings. The Delta 28-400 Band Saw is powered by a 1 horsepower single-phase motor that makes it capable of handling the challenging woodcutting jobs like a pro.

10. Makita XBP02Z Band Saw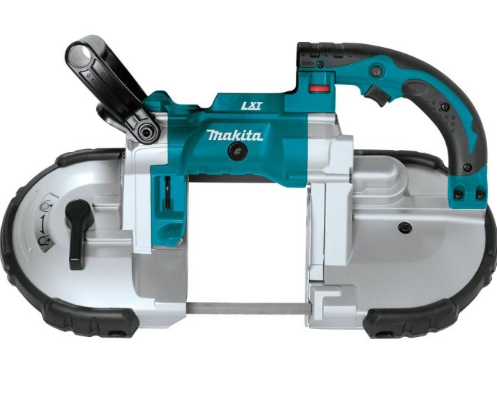 The Makita XBP02Z Band Saw offers an impressive cutting capacity of 4-3/4″ along with 44-7/8 blade that makes it perfect for slicing easily into metal. It's powered by a Makita-built motor that ensures the fastest cutting with a variable speed of 275-530 ft. /min. It also features a protection circuit along with a built-in alert light for enhanced durability. The Makita XBP02Z also includes several safety features such as trigger switch with lock-off that prevents accidental startups.
The variable speed control system of this band saw will enable you to adjust the motor speed according to the complexity of your job to ensure maximum perfection in the work. If you are a DIY hobbyist or you want a band saw for your occasional use then we will recommend you to try this lightweight band saw that will perfectly match all your cutting needs.

Tips for Choosing the Best Band Saw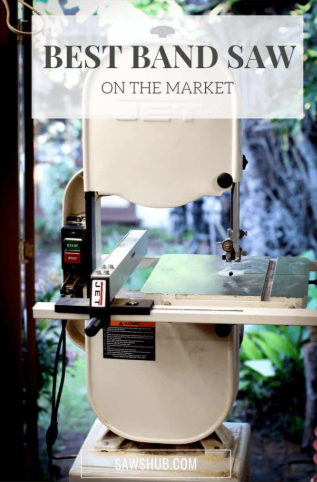 Choosing the right band saw is quite difficult, especially when you haven't used it before. However; we will give you some useful tips that will surely help you to buy a perfect band saw. As we all know that the marketplace is crowded with thousands of similar products in a same price range, so it's quite hard to choose a single one. Therefore, here are some of those core factors that you should seriously consider before you buy a band saw to ensure that you get the right product according to your needs.
If you are buying a band saw for the first time then you should probably know that they are quite useful for making precise cuts and re-sawing the shin strips of wood. Before you finalize a band saw, it's important to understand for what purpose exactly you will be using it as it comes in several types.
Buying Guide for Best Band Saw
Purchasing an ideal band saw according to your needs seems to be a tough task but you can always consider reading a proper buying guide to have a look at the considering factors to choose the perfect band saw.
Cutting Capacity of Band Saw
The first step in choosing the best saw is to look at the cutting capacity. If you want to make variable cuts then you need a band saw with high cutting capacity. For better sawing experience you need to include all the cutting capacities such as lateral, in-depth, and height capacity.
Blade Technology
It is very important to go for high-quality carbide blades. Most of the band saws include built-in retractable blades for making efficient cuts. If you want to prevent the blades from wear and tear then you must purchase high-quality blades.
Blade Cutting Speed
If you want to do your works faster then, you will have to focus on the blade speeds. The minimum blade speed should be 1500/3000 feet per minute in order to work at a good pace. Always check for this feature before purchasing a band saw.
The durability of the frame
The band saws are used for high-end construction jobs that are very demanding and your tool can be prone to the damage. In such cases, the durable frame construction is an important feature that you need to look for. You should look for the best durable frames made up of cast iron metallic alloy. Once you choose the durable frame then you can enjoy a long-lasting band saw experience without getting worried about the damage. If you want to work for home or DIY projects then you can also so consider high-end aluminum alloy frames.
Weight of the saw
If you are purchasing the band saw for the first time then make sure that your tool is not too heavy. The best band saw won't have to be too heavy especially when you are going to use the band saw at your home then you need to look for the less heavy models. So in this way you can enjoy the portability of the tool by shifting it from one place to another easily without getting tired. The band saws to be used for DIY projects should be easy to use and lightweight.
The size of the work table
A work table with a large capacity will provide greater flexibility, ease of working, and a wider area. With a large-size work table, you can easily operate various types of materials.
Safe Features to Consider
It is very important to look for the safety features before purchasing a band saw to avoid any kind of accidents. You need to ensure the safety properly because it's very important to yourself safe from injuries.
The base of the Band Saw
You must have seen the band saws with base stands. It's necessary to have a stable set up of band saw in order to work in a smooth environment without vibrations. In case of a sloppy place, you might end up being shaky during the work which causes irritation along with accidental cuts too.
Blade Guard
The blade guard is a necessary feature in order to prevent accidental cuts. However, many people ignore the blade guard feature and make use of the band saw with bare blades for the longest time.
Dust Port
The dust port is a must-have feature to look for especially when you don't want the mess up in the working area. The dust port is necessary to keep all the dirt, dust, and debris away from your working area. The dust collection system will not only give you space to see things clearly but also provides protection from breathing harmful dust particles.
Blade Tracking Window
It is important to visualize the line of cut during working in order to have precise cuts. Make sure to track your cuts easily by watching the line of cut and blade. This is the only reason you need a band saw with a blade tracking window.
Frequently Asked Questions (FAQs)
What is the best 14 bandsaw?
Here are some of the best 14-inch bandsaws that we have reviewed in depth.
Makita XBP02Z Band Saw
Grizzly G0555LX BandSaw
Rikon 10-305 Bandsaw
JET JWBS-14DXPRO Saw
WEN 3959 BandSaw
What is a band saw good for?
A band saw is the most accurate tool used to make precise cuts in curves and it can conveniently cut irregular shapes. Another good use of a band saw is to rip lumber into thinner pieces with 100% accuracy.
What is the best benchtop bandsaw?
SKIL 3386-01 Benchtop Band Saw is one of the perfect choices that you can make when it comes to finding the best benchtop bandsaw. It comes with several outstanding features that will provide worth to your hard-earned money.
What are band saws used for?
Bandsaws are commonly used in woodworking, metalworking, and lumbering related works. A band saw can easily cut through a variety of materials such as wood, metal, and plastic.
What size bandsaw should I buy?
Well, it depends; because band saws are available in different specifications as some of them are highly powered while most of the band saws have limited power and cutting capacity. You should first identify your requirements. In general, a simple 14-inch band saw is enough to tackle routine woodworking and metal cutting related tasks.
What is the best bandsaw for the money?
These are the following best bandsaws for the money that you can consider buying in 2020.
Makita XBP02Z Band Saw
Grizzly G0555LX BandSaw
Rikon 10-305 Bandsaw
JET JWBS-14DXPRO Saw
WEN 3959 BandSaw
Conclusion:
We hope this best band saw buying guide has helped you make a wise decision. In our list of band saws, we have only featured those particular models having the highest customer reviews so that you can avoid the hassles of new brands. In our buying guide, our favorite band saw is Grizzly G055LX Bandsaw due to several technical reasons. But that doesn't mean all the other models are useless because every model has its own pros and cons. It's not always easy to shop online without any past experience, but we are quite hopeful that you will decide the best one after going through in-depth descriptions of these featured models.
Read also: Best Miter Saw Reviews 2020
Read also: Best Jigsaw Reviews 2020
Read also: Best Chainsaw Reviews 2020
Read also: Best Pole Reviews 2020
Read also: Best Reciprocating Saw Reviews 2020