If you ask a question, what is a bandsaw, and for what purpose is it used? Here is a quick review of the product for you. The Band saw's most straightforward definition with a long blade possessing the crooked teeth bands created in a continuous pattern. The saw comes with two or more wheels. Just like a cassette tape, the ribbon rotates along with the wheel.
What is the history of bandsaw machine?
Just like other saw tools, the history of bandsaw goes back many years. The device has been changed in the past several times. The first bandsaw that was quoted in history went the back to the early 1800s when a British national William Newberry received a patent for the idea.
The initial ideas did not work well as the technology that could create a long-lasting blade did not exist yet. After a few decades, a French national woman known as Anne Paulin Crepin invented an innovative welding technique that generated a better blade building for this kind of saw. In 1846 the women finally applied for the patent. After that, she quickly sold the rights to a local manufacturer, A. Perin, and Company.
The direction of Band saw; vertical or horizontal?
Here are the differences between horizontal and vertical bandsaw:
Vertical Band saw:
The cutting position of this metal bandsaw is vertical. It is driven via a belt transmission. The user can adjust the speed via the blade speed. The blade of the vertical Band saw rotates on a fixed track between the idler and drive wheel cutting into the wooden log's side. The saw is excellent for polishing, filling, and contours.
Horizontal Band saw:
This Band saw is usually known as floor-mounted machines used to make the ordinary cuts in the materials like tubing, solid steel, or irregular wooden pieces. The blades function with the help of an electric motor that comes with a pulley and a belt. The material cutting position is horizontal; the material to be cut is mounted on a wise that is attached to the machine's lower region.
The idler and driver wheels of a band saw are situated in a lengthwise position that pivots from one side of the machine's bed. The craftsman uses the horizontal tool to cut the wooden logs to length at miter angle or right angles.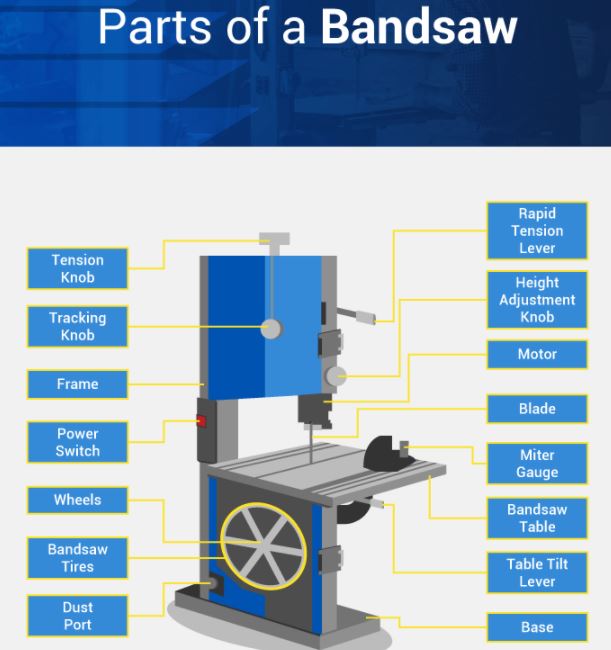 Conclusion:
The Band saw it has been in functioning since the 1800s. However, the early models of the tool have been poorly failed. In this article, we have addressed a commonly asked question what is a band saw? The device is alien to those who have not used it till now. There are several types of Band saw available in the market that serves various purposes. We have also quoted the difference between horizontal and vertical Band saw in the content.