If you are one of those serious buyers who some something versatile while keeping the quality in priority then the Powertec BS900 Band saw is an ideal choice for you. Powertec bs900 band saw is one of the high-quality tools for those having limited budget options. There are lots of handy features of this band saw such as a quick-release blade mechanism. It is a tilted worktable that allows cutting materials up to an angle of 45 degrees. Here, I would like to give you a detailed review of the Powertec 9 inch Band saw.
This great model of the band saw is an ideal choice for enthusiasts who love to explore versatility in quality at the same time. If you are a beginner then you must go for this tool because of its amazing features and easy to use mechanism. However, according to my point of view, some professionals may find it a good model but many of them won't like the limitations that come with this tool in the form of blade speed and under powered motor. However, it all depends on the type of work which you want, and in case of moderate work you can make excellent use of this tool in a limited budget.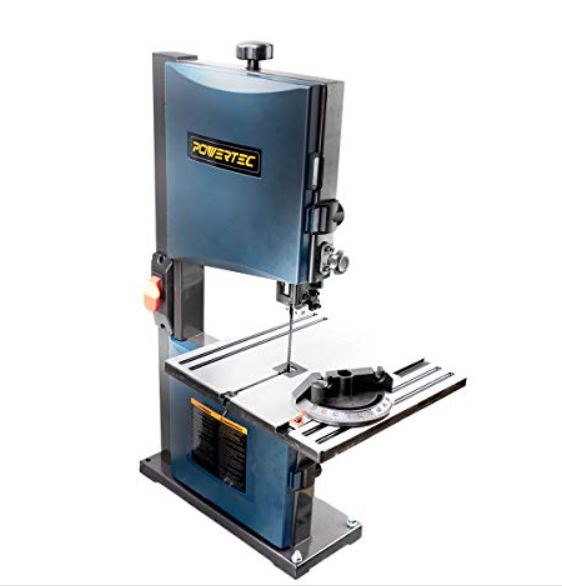 Key features of POWERTEC BS900 Band Saw
Unique Design
One amazing feature of this tool is the unique design. Weight of any tool plays a great role in its performance and portability so keeping in mind the weight of this tool, we can say that it is portable enough to be used anywhere you want. Buyers might think that the weight of the saw effect its stability but it is not the case with this Powertec band saw.
When we look at the design of the worktable then it is spacious but it could have been better. The overall quality of this band saw is great and the tilting mechanism also works to the point. Whether you are a beginner or professional you can make yourself satisfied with the performance of this unit. The blade range is also satisfactory and it gives versatile cuts according to your expectations. Another noteworthy feature of this band saw is the two-inch dust port which is a great addition to this tool.
Speed and Performance
It comes with a powerful motor of 2.5 amp which spins at the speed of 1727 RPM making it possible to do quick and accurate cuts. It is the best saw for those who want versatility because you can do scroll cutting with blade width ranging from 1/8 inch to 3/8 inch. You can do quick blade changes with blade guard adjustments. Those who want to make quick angle and deep cuts make use of this band saw.
Usability
The usability of the BS900 model is satisfactory because it can pierce through a variety of materials that are used in woodworking. When you are using the carbide tip blade then you can do any kind of cutting job without any issues. However, the consistency and accuracy may differ from material to material. You can make use of any size of cut or density while working with wood and it will give satisfactory results as well.
Price Range
As far as the price range of this band saw is concerned we can say that it is available at an acceptable price.  Although, many people may find it an ordinary model investing in this unit is not a bad deal especially when you get a sturdy and reliable product in a decent price range. If you are limited on a budget then you must go for this model.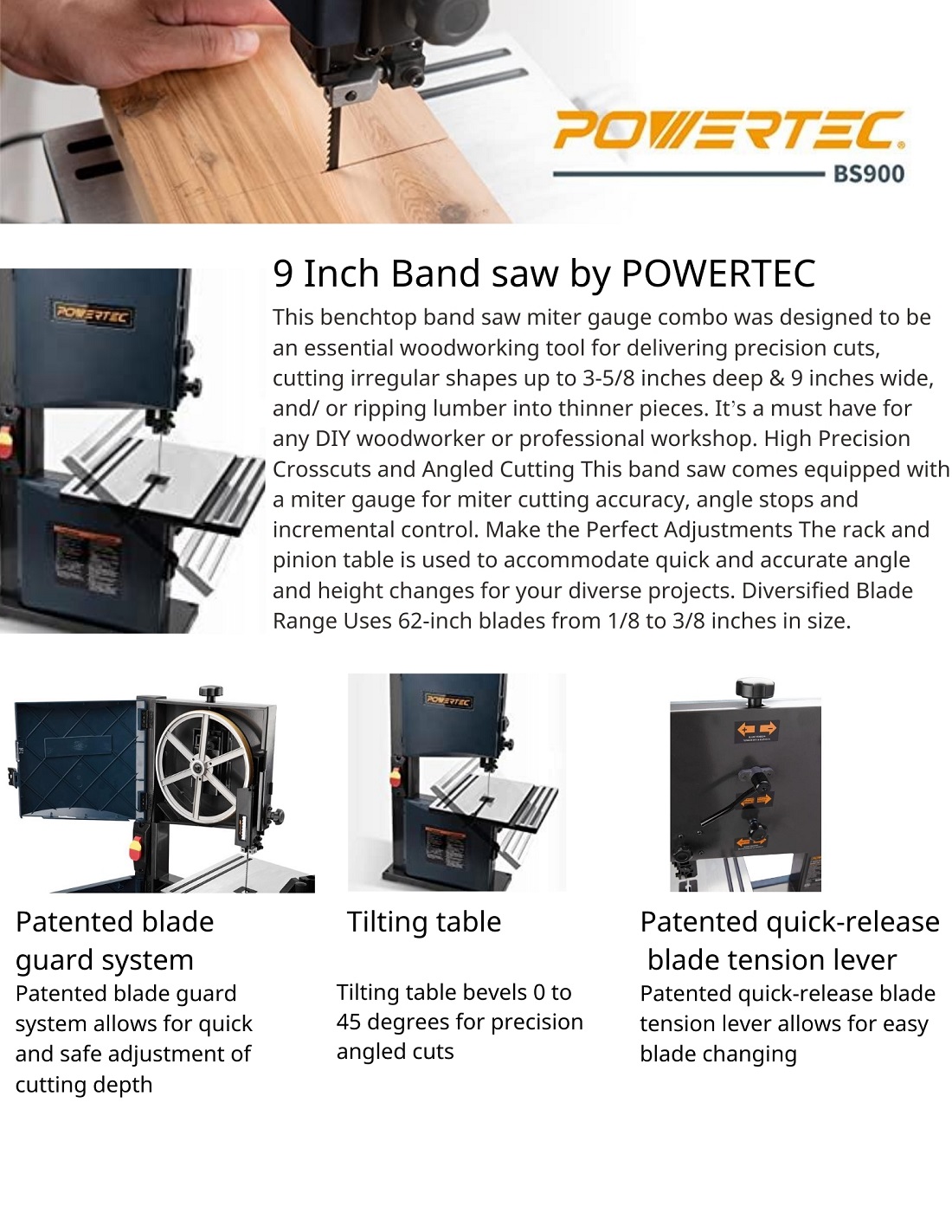 Conclusion
If you are woodworking enthusiast and want to do woodworking job on a daily basis apart from the intense projects then this Powertec BS900 is a good choice for you. It is a perfect band saw for mid-sized projects but those who want something extraordinary giving A-grade performance then they should not consider this model. Overall, it is a good choice for beginners and mid-level woodworkers who want to do light projects.