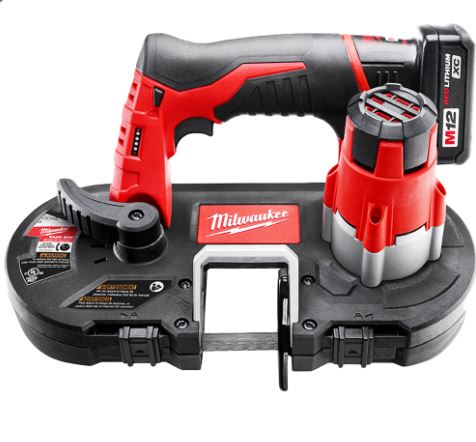 If you are looking for the best portable band saw then you have landed in the right place now. The Milwaukee 2429-21XC Band Saw is an ultimate option for anyone looking for a smaller band saw without compromising on power. Although heavy band saws are mostly used for heavy-duty jobs, when it comes to lightweight band saws then they have a limited capacity but they are more convenient.
The most noteworthy thing about Milwaukee 2429-21XC is its weight design and size that makes it a perfect portable band saw that can be easily used with one hand only while on the other hand, it offers a maximum sfm of 280 which is also quite impressive. However, despite lacking in a variable speed control system it still offers a variable blade speed that can be controlled by the trigger for a variety of jobs.
As far as the cutting capacity of Milwaukee 2429-21XC Band saw is concerned, it offers 1-5/8″ of cut capacity that will be more than enough for various types of jobs. In Milwaukee 2429-21XC portable band saw you will also get an LED cutting light that will illuminate the entire workplace so that you can make precise cuttings despite any environmental challenges.
Why You Should Consider Milwaukee 2429-21XC?
Well, there are plenty of reasons behind this claim because we have reviewed a lot of popular band saws recently but according to our experience with this band saw, the winning point of this tiny machine is its size and weight that makes it convenient enough for daily professional and household uses. However, as promised, here are some of its core features that are worth reading.
Blade Tension Adjustment System
It comes with an adjustable blade tracking system that makes it quite easier for anyone with minimum knowledge about band saws to change its blades. As we all know that when the tension is released then it becomes very easy to change/replace the blades of a band saw that's, why Milwaukee has finally added this unique feature in this band saw too.
One-Handed Cuts
As per our personal experience which is not a final verdict, Milwaukee 2429-21XC offers one-handed cuts due to its lightweight design and size that makes it the lightest band saw among its competitors under same price ranges. With this band saw you can easily make one-handed cuts without having any fear of flaws in your work.
Variable Speed Trigger
It comes with an excellent feature called variable speed trigger which you might have seen in any other band saw before. It enables users to adjust the blade speed according to the requirements of the material that they want to cut with it.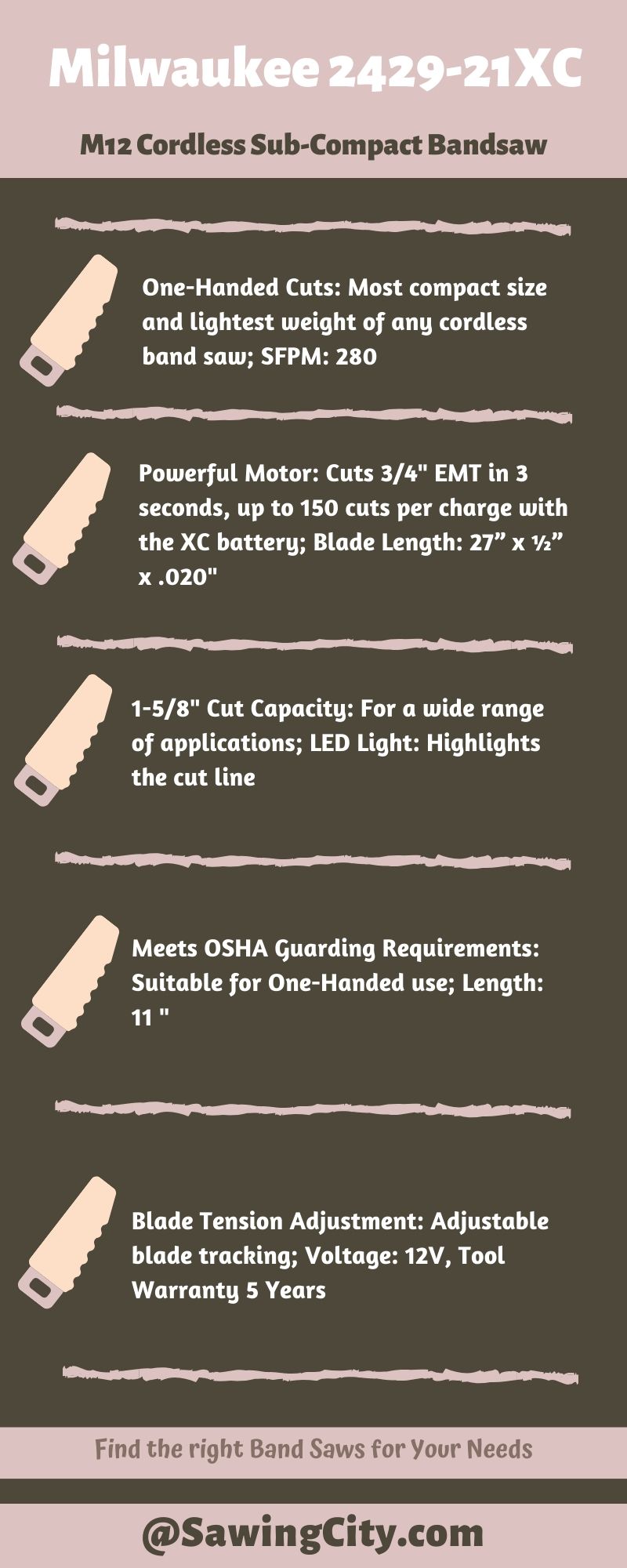 Frequently Asked Questions (FAQs)
How much does a Milwaukee band saw cost?
It depends on the model because Milwaukee offers a vast range of band saws with different features. It's difficult to mention any particular cost but on average it will cost you from anywhere between 200$ to 400$.
What size blade does a Milwaukee band saw?
The standard blade size is around 44-7/8 for maximum performance. It will deliver impressive durability and especially in metal cuttings.
How do you put a blade on a Milwaukee band saw?
You need to follow these simple steps for a smooth blade changing process on a Milwaukee band saw.
Remove the blade tension first.
Remove the blades from wheels.
Now clean the saw for any dust.
Install the new blades as mentioned in the manual.
Test the band saw first and start using it.
Conclusion
You may have some concerns regarding its cutting capacity but belief me it's worth buying band saw especially if you are a full-time worker with a very limited budget in your pocket. Milwaukee 2429-21XC is also a good choice for household jobs and also for DIY lovers as it offers great cutting speed.