The bandsaw is the tool that artisans use for shaping the wooden block. In this article, we will answer a commonly asked question How to measure bandsaw tires. Keep reading and learn new things about the device.
Introduction:
People who have operated the tool know that the bandsaw has two wheels and is protected by a tire securing the saw blade from getting damaged. In short, the tire enables the bandsaw to run smoothly and track its functions accurately.
As the user continues using a bandsaw, the tires wear off and need replacing. Here is a step by step guide on knowing when to replace bandsaw tires of the band saw as otherwise, it can be a troublesome activity.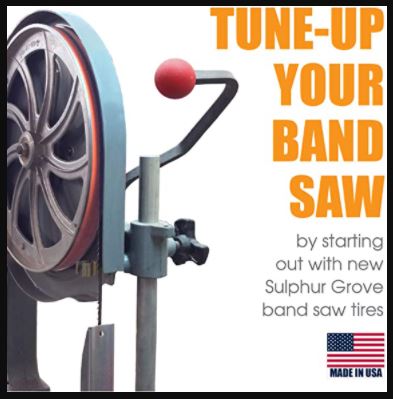 Step one: take out the worn-out bandsaw tires:
For measuring the exact size of the wheel, you are required to take out the currently installed tires of the bandsaw. If the bandsaw's operation gets uneven, it is the time when users are required to replace the tire. Take out the tire with a razor knife but cutting the glue which holds the tire. Make sure that the bandsaw machine does not have any residue left of the bond because otherwise, it would be difficult for you to place the new tire in place of the older one
Step two: Selection of the tire
Mostly users are requested to select from rubber or Urethane Tires. If you want to purchase a budget-friendly alternative, go for a rubber tire. The only problem with rubber tire is that it wears down quickly as compared with Urethan Tires. The other option of tire does not quickly wear down and prevents the residue from the building. Color also mater when selecting the bandsaw tire; we advise the users to go for orange as inspection gets more comfortable this way.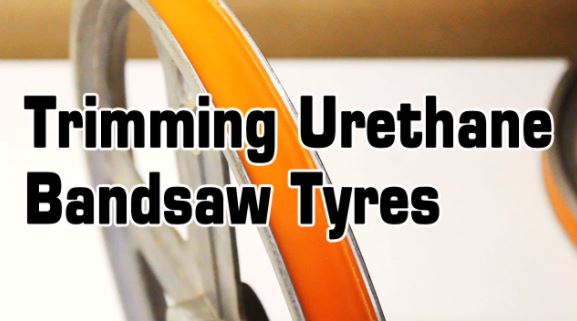 Step 3: measure the size of the bandsaw tire
The bandsaw machine that you possess dictates the size of the bandsaw tires. Ideally, the tire is 2 inches smaller than the actual bandsaw size. Bigger size tires can easily slip off while you operate the tool.
Following are the bandsaw tire sizes you can find in the store:
10 inch bandsaw tires
12 inches
14 inches
16 inches
18 inches
20'' bandsaw tires
For determining the tire's size, measure the diameter of it, only minus two from the readings. The finding will be the exact size of the replacement bandsaw tire that you need.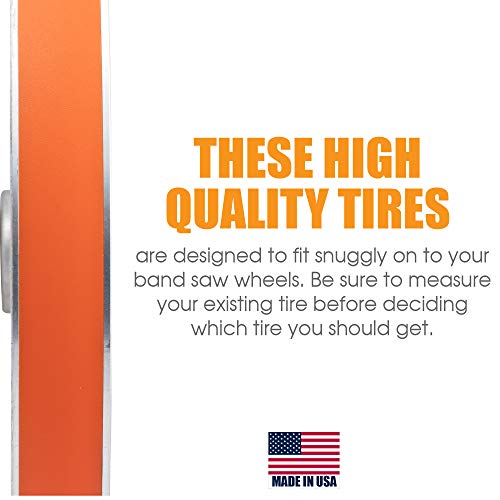 Conclusion:
The bandsaw tire protects the blade of the tool. If you want to know how to measure bandsaw tires, we have discussed ways to measure and remove the worn-out tire and install a new one in this article. Ideally, the bandsaw tire's size is 2 inches smaller than the size of the bandsaw machine. In the marketplace, the user can find Rubber or urethane replacement tires.