Hitachi C10FCG is the best miter saw for homeowners because of its extraordinary performance and lightweight design. It is smooth in its working including the crosscuts. The best thing about this tool is that you can cut a variety of materials such as wood, plastic, fiberboards, aluminum sheets, plywood, and many others.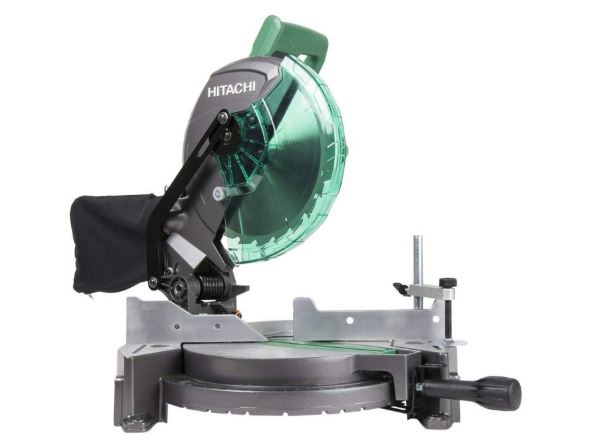 Cutting Capacity and Precision
Hitachi gives you the flexibility to cut from 0 to 45 degrees without compromising on accuracy and precision. You can easily make 45 degrees bevel cuts at the preset points which makes it powerful and reliable. The bevel cuts can be made easily and with no difficulty.
Dust Collection Performance
Hitachi does include a dust collection feature but still, you cannot expect the working place to be very tidy and cleaned. However, the dust collection feature makes it possible to keep the working space cleaned.  Overall the dust collection system of this miter saw is great and it doesn't produce much noise while operation.
The Speed and Motor
The 15 amp powerful motor spins at the speed of 5,000 rotations per minute giving the blades power to make a smooth finish. The 15amp powerful motor spins at a high speed but the vibration level of this saw is efficiently maintained.
Price and Affordability
These days finding a good saw is not easy because of a variety of tools in the market either you have to do compromise with the price or the performance. It is the only tool which budget-friendly and gives a satisfactory performance at the same time.
Ease of Use and Comfort
This tool gives you maximum precision and ease of use when it comes to smooth working. You can make use of easy stops to make repeated cuts without losing the focus. Although the cord of this tool is short it is enough for home use. If you want to work outdoor then you can use an outdoor extended cord for more reach.
Final Thoughts:
As the brand indicates, it comes with 5 years of warranty and comes with a large supporting table. It does consistent cutting and is very accurate as well. It is a flawless tool when it comes to comfort and price. If you want to purchase something for home use then you must go for this saw because it is not heavy on the pocket. The weight of this saw is only 24.2 pounds which make it very lightweight and portable. Despite the above discussed positive points, it has some drawbacks too like short cord length and lack of XPS light to trace the small cuts during working. However, it is a good handy tool when it comes to power, precision, handling, and privacy.
Note: It is a great budget friendly tool but if you want more durability and reliability then you can consider buying the high end models of DEWALT and Bosch.